About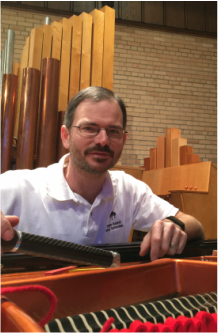 Torger Baland RPT
Torger Baland Registered Piano Technician owns and operates Baland's Papageno Piano Tuning LLC.
Torger is a graduate of Saint John's University where he studied voice, performed with the chamber choir, took piano lessons and worked in the performing arts.
Torger opened for business in 2005 and has attended multiple piano technician conventions where he has learned the art and craft of piano service from the finest piano technicians nationwide

. After passing a series of tuning and technical exams,
Torger became a Registered Piano Technician in 2017.
Baland's Papageno Piano Tuning LLC has received the 2011, 2012, 2013 2014 and 2015 Best of Saint Paul Award in the Piano Tuning and Repair category by the Saint Paul Award Program a press release is on the business Facebook page. We have also received the best of Thumbtack 2015, 2016, and 2017. Our Angie's List rating is high.
A few notable clients include the Minnesota Governor's Residence, Mall of America, Lumen Christi Catholic Community, Cretin Derham,
St. John the Baptist Catholic Church,
Saint Edward Catholic,
Nautilus Music Theatre, Theatre de la Jeune Lune, Brighter Minds Music and Saint Paul Music Lessons.
Torger is proud to support the music in the lives of clients throughout the Twin Cities. Read the testimonials and schedule your next tuning today.

What the customers say
Mary D, Minneapolis, Kawai Grand KG-2D
"I found Torger to be not only thorough and fair, but pleasant and polite. I asked him to put me on a regular six month schedule and expect to see him every six months indefinitely."
Yuki and Nate M, Minneapolis
,
1917 Steinway Grand Model O
"Torger is great to work with! Torger is knowledgeable and detailed with the tuning process. He is very nice and answered all the questions I had regarding the tuning process and piano maintenance as well. It was an educating experience, plus the tuning itself turned out great!"
Jeremy M, Hastings, 1908 Kimball upright
"I had Torger come out to help me revive a 1908 Kimball upright I had recently purchased. Torger quickly identified some problems with the bridge. I was very impressed with the way he carefully and methodically went about the repair. I ended up being very pleased with the results and his rates were reasonable."
Brooke Marshall
,
Coon Rapids, Yamaha upright
Piano Teacher
"Torger is wonderful to work with. He is always on time, puts up with my over excited black lab quite well and most importantly, my piano sounds wonderful after the tuning. I have recommended him to my piano students when they are in need of a tune on their own pianos. His prices are also quite reasonable."
Andy A, Anoka, Kawai Grand RX-5

"Thanks for doing such a nice job. I will definitely call you again the next time it needs tuning."